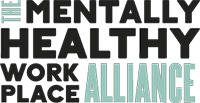 Mentally Healthy Workplace Alliance
As a member of the Alliance we support all Australian workplaces through the Heads Up Initiative and the National Workplace Initiative to create mentally healthy workplaces for business and workers – strengthening our community and our economy.
Chaired by Lucy Brogden, Chair of the National Mental Health Commission, the Alliance brings together business, unions, the mental health sector and regulators to promote mentally healthy workplaces. We know that work has a profound impact on our mental health, and with 12.6 million Australians employed, it is an ideal place to prevent mental illness and help people recover when they are unwell.
A National Workplace Initiative
Our Alliance over the last few years has prioritised work on a National Workplace Initiative. This has involved a discussion paper, a literature review and targeted consultations with stakeholders. The outcomes of this work found an appetite for a national initiative for all Australian workplaces, and in the 2019-20 Federal Budget the Government announced an investment of $11.5 million over four years for the National Workplace Initiative (NWI). The NWI provides a nationally consistent approach to workplace mental health.
The NWI will:
create an evidence-based framework for workplace mental health strategies
help people at work and those connected to them find suitable initiatives and resources
showcase successful approaches to mentally healthy workplaces
strengthen the many programs and interventions already underway in Australia.
The NWI is utilising local and international research and learning from the industry and mental health experts, and other government organisations.