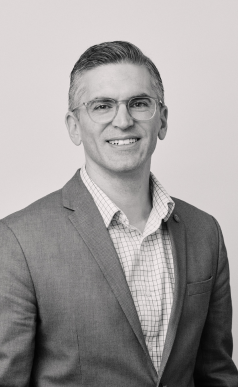 Dr Ross Iles, Associate Professor
Chief Research Officer
Ross joined SuperFriend as Chief Research Officer in November 2022. Prior to SuperFriend, he was the deputy Director of the Healthy Working Lives Research Group in the School of Public Health and Preventive Medicine at Monash University.

Ross is driven to have a positive impact on the health of as many people as possible. This started out in direct fashion working in physiotherapy practice, and now plays out in when conducting research to inform policy and practice related to health and wellbeing in the workplace.

He has authored more than 40 peer reviewed publications and secured over $5 million of funding to conduct a range of research projects focused on work disability, that is, when people are ill or injured and unable to work. He has led projects within multiple workers' compensation jurisdictions, examined the transitions people face when accessing income supports, and has assessed the impact of ill health in specific populations. For example, his research identified that with no intervention to improve the health of the truck driving workforce, the impact to the Australian economy will be more than $2.6 billion in the next 10 years.
He has a Bachelor of Physiotherapy (Honours) and a PhD from La Trobe University, and a Postgraduate Diploma in Work Disability Prevention from the Universite de Sherbrooke, Canada.